Gold rush for St Monica's Boxing Club after another successful tournament
​It was another successful tournament this weekend for St Monica's Boxing Club with six gold medals over the last two weekends at the Louth Amateur Youth Boxing Opens.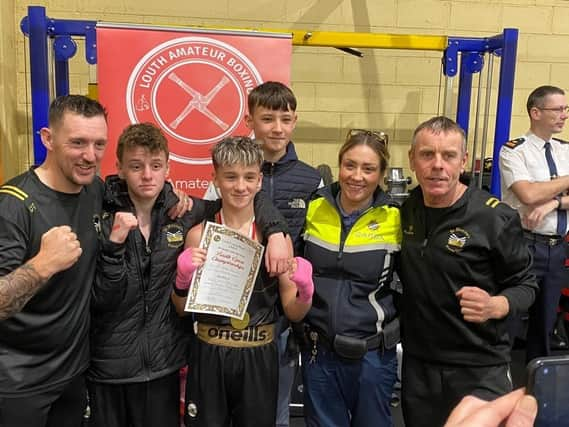 Michael Dudzik was awarded the boy 2, 62kg champion. Following him was clubmate Shane Campbell who won his final to become the boy 3, 41.5kg champion. Daire McGuinness was also awarded a win in his final and became the boy 3, 44.5kg champion.
Coach Dessy Toman said: "This was a great tournament. We entered six boxers, three had to fight and all won, while the other three boxers got walkovers. James McCann, Joseph McParland, and Katie Lee O'Hare were disappointed with the walkovers as they had put in the training and were ready for the tournament."
Gardaí Kate Patterson was on hand to present the medals to the three boxers. Thanks to Dealgan ABC and O'Hanlon Park Boxing Club for the invite to the tournament.
On Sunday past the club had four girls called up to the Antrim Development Squad on Sunday. Alicia Kelly, Tegan Toman, Katie O'Hare, and Lauren Smith. This is the first time at this level for these girls and this proves that their hard work is paying off.
Coach Sandra Gray who was with the girls at the squad training said: "All the girls performed great. This is the first time the girls were training at this level. To be part of this Development Squad is a great opportunity."
For more photographs of St Monica's success see this week's Newry Reporter – in shops Wednesday November 15!