MAYOBRIDGE GOLF: ​Magee goes free as competition winner
The annual 'Win Your Membership' competition took place over the past weekend.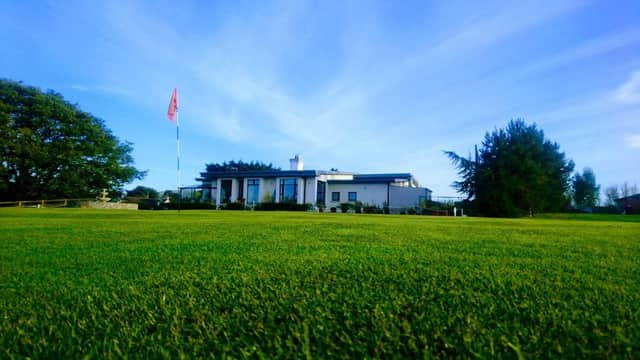 The weather certainly favoured those who entered the open draw for Saturday morning and afternoon as the dry conditions were more suitable. However, the overall winner surprisingly came out of the hardy bunch who completed their rounds in the inclement conditions that prevailed on Sunday morning. It was Barry Magee (21) who edged out the opposition for the second year in row to go free for 2024. Magee probably thought he had blown his chances after an indifferent display over the the front nine, and a third double bogey of the day at the tenth looked like it might have spelt the death knell for his chances. However, he found some remarkable resolve to craft a dream finish, completing the remaining holes in just one over par highlighted by a superb birdie at the index-two thirteenth. Magee just edged out Shane Milligan (32) who finished on the same score. Pars at holes four and seven put Milligan in a strong position at the turn but his failure to score at hole 13, in contrast to the winners achievement at the same hole, certainly proved costly when it came down to the countback rule. The winner in Division One was JP McIlvenny(14) with 42 points. McIlvenny prevailed despite failing to pick up points at the first and the fifth, but birdies at holes seven and 15, were good enough to earn him the prize. The runner-up in the division was Ronan Marley (13) with 41 points. Marley, who has been one of the more consistent performers in recent weeks, picked up his third prize in as many weeks with another virtuoso performance. He opened his account with six unanswered pars and his steady play was in evidence throughout his round with a double bogey at ninth being his only real blemish in an otherwise strong consistent display of golf.
The first leg of the Rossmore Cup final took place at the bridge on Saturday afternoon. Team Captain Harry Addis and his charges have enjoyed a terrific run in competition this year and deservingly clinched their place in final with a great performance against Dungannon in the semi final at the end of August. However they were very much aware that their opponents in final Co Cavan would be a formidable bunch given that as quite a few of them were more than familiar with the Crossan Road course having been involved in the Peirce Purcell tie last year. The encounter as expected turned out to be close battle with the golf on display being of a very high standard.Things were pretty even by the halfway stage but as the matches headed towards the concluding holes it was the Cavan men who took the first point of the day winning the first match 2 and 1. The second match which looked like going in favour of the visitors early on saw the bridge pairing of Diarmuid Lonergan and Colm Magee stage a brilliant comeback winning the final four holes to even up the tie. The final two matches also came down to the wire however the Co Cavan claimed victory in both leaving them in a strong position heading into the second leg at their home course next weekend. Team Captain Harry Addis was naturally a little bit despondent afterwards but was still confident that his team can turn the tie around in the away leg and bring a first Cowdy pennant back to the club. The return match tees of on Sunday the 23rd of September at 1pm