Southern Trust nurse wins prestigious UK award
​A nurse in the Southern Trust has won a UK award for improving the sleep of adults with learning disabilities.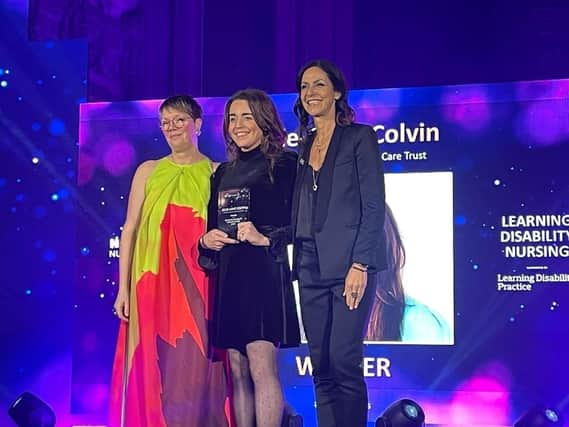 ​Julie Ann Colvin, Nurse Development Lead in Learning Disability, had her submission selected from over 920 entries in the Learning Disability Nursing category of the RCN Nursing Awards 2023.
Julie Anne had secured funding through a 'Dragon's Den'-style grant initiative through the Trust's Quality Improvement Team to run a pilot providing sleep coordination training and advice for staff and families across the organisation.
She said: "I am grateful and proud of the incredible and dedicated multi-disciplinary team that have worked so hard on this project with me from the very beginning.
"Improved sleep not only helps the individual with the learning disability but also impacts upon the whole family and will benefit all family members' wellbeing."
Jan McGall, Director of Mental Health and Disability Services said: "Using a bespoke and person centred approach to sleep, Julie Anne's project results to date have been described as life changing for some individuals and their families.
"This award is testament to the dedication, passion and enthusiasm of our learning disability teams and we look forward to seeing the difference this project makes for future service users."